Full Package ApparelManufacturing Service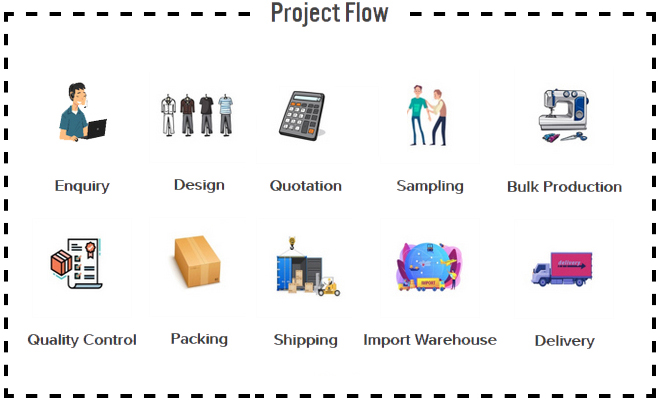 With a Total Apparel Solution under one roof Your brand has made the right decision.
At Texstyle we offer you a wide range of customization solutions for your brands apparel. If you already know which products you need to manufacturer you can share the details and specifications with us and we will send you our price estimate for your order.
Together we`ll create the perfect product for you!
02 Design / Product Development __
If you`re ready to move forward you can provide us with your design of the product you wish to continue with. If needed, we can also help you in creating a complete tech-pack of how the final product will look like. We communicate the tech-pack design to you and keep adjusting it until you are satisfied.
We will also discuss your choice of fabric/material, colors, trims or/if any applications required.
After approval of the design we will send you a price quotation of your order. All pricing will be based on the approved design/tech-pack, including the selection of fabric/materials, trims, embellishments, label & packaging of your products.
Before start of the production we will develop the proto-samples of your product. Prototype sampling provides you with a tangible representation of your idea to see how your finished product might look like. It is common to have revisions and changes to your product at this stage. This can also include a full range of apparel sizing so you can check and approve the fits.
Once you are happy with the samples and given your approval, we will commence on the bulk production. At the same time we will require the down payment.
Before, during and after the production our designated team will organize a quality control of your products and inspect to ensure there are no issues. This is also to ensure that the goods are produced according to the agreed guidelines. Additional quality checks are also possible!
After the quality control is complete your products will be individually packed and sealed in cartons. If you have ordered special marking it will be added also. Export cartons can be marked with: your logo, product name, number of pcs. inside etc.
We offer a wide variety of of shipping options including ocean, road, air cargo and express courier. We will handle the shipping paperwork and arrange for the shipping of your products. At this stage final balance payment will be required before shipping.
As an additional service we can assist in custom made logistics by offering a full service warehousing. If you`ve chosen to pick-up/drop-ship your goods via our office in Denmark or Norway we will take care of the import/clearance process as well. We do inspection of the incoming goods, warehousing and re-packing if required, palletization and arrange the final delivery.
We hope you will be satisfied with your order, if there are any problems or you are not satisfied with your order please contact our customer service immediately after receiving the delivery.